Compass Telematics is providing GPS based tracking and monitoring solution to its esteemed clients engaged in the business of CFS/ICD and Ports operation. The unique requirements of these industries are mainly
Real time location information of its moving assets
Planned v/s Actual usage of its assets
Automated client intimation on job completion
Fleet usage inside a designated client/operation location
Maintaining record of number of job handled by each assets
The challenge:
Inter Terminals Vehicles (ITV) whether owned or rented on dedicated basis plays an important role in placing the containers inside the Port/CFS/ICD terminals in various ways such loading/ unloading vessels and shifting containers to designated places as per requirement. Locating and job assignment to any specific container becomes a major task in pick hour movement.
Current Process Flow:
Based on requirement operation manager at control room needs assign jobs to a specific container or a group of containers engaged in executing any given task. There are number of field staff inside the port areas carrying Hand held mobile data terminals uses the job code from the control room. Actual pain of finding number of free ITV as per requirement starts once they receive the job code. As field staff has less information about the ITV's current status in terms of location, engagement, future requirement etc.
Compass Solution:
Compass here by propose a proven solution to ensure the increase productivity of ITV hence optimizing operation process which results in real time job assignments to the desired ITV without any manual intervention.
Step 1:
All the ITV are installed with Compass Qube and MDT device. Real time locations of the ITV's inside the Port/CFS/ICD areas are captured.

Step 2:
Control room can create group for required ITV (40ft, 20ft trailers etc.) based on their engagement status. And assign job direct to the Installed MDT. Driver of the ITV has an option to accept or reject the job based on the real time status which is an instant update for the control room person. Various colour code are used for identify the ITV's status based on the input received from drivers. On completion of job the colour code changes automatically to their actual status. Step 3: Unlimited Geofence and site creation for all point of interest enables our clients to pin point the location reference and allows generating MIS reports about vehicle usage/detention against each POI (Point Of Interest)
IV. Benefit of the solution:
Real time location information of the ITV's inside the port/CFS/ICD.
Remove manual intervention and establish a direct link between control room and moving ITV's.
Detailed log of assigned task against each ITV's
Based on inputs from Compass client solution it becomes extremely easy and user friendly for the control room person to create a group of ITV based on required task to be accomplished.
InsidePort/CFS/ICD areas safety is an important aspect. Speed and route for the ITV's can be monitored centrally.
Unauthorized usage/idle time against each ITV will be on the finger tips for the fleet managers. This will ensure revenue loss.
Automated event alert to all concern persons subjected to their area interest.
Real dynamic dash board to capture any related events for management decisions. Sample as below.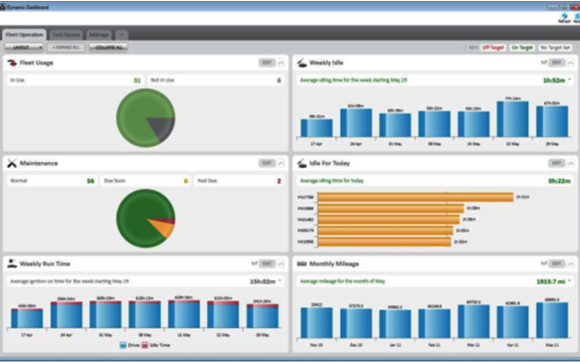 Hardware and software components used in Compass Telematics's cold chain solution:
1. Qube4 telematics device
2. MDT Mobile data terminal (for unlimited message communication from control room to vehicles)
3. Unlimited geofense/site creation option
4. MIS Reports.