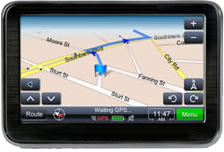 The all-encompassing desktop-based business tool, increases productivity and reduces overall costs.
KEY FEATURES
Geofencing
We enable up to a 100 geofences to be loaded to each device. Since they reside on the device, all alerting happens real-time. These geofences allow users to alert on enter or exit. Email or SMS notifications can be set up. Reports can be run across the Geofence or across all vehicles.

Landmarks
We allow up to 20,000 landmarks to be loaded into the system. Reports can be setup by vehicle or by landmark.

Driver performance
Performance reports can be enabled with the deployment of the Mobile Data Terminal or M-Nav device. All events such as speeding, idling, mileage can be reported on by vehicle or by driver.

Maintenance module
Track and monitor all maintenance. Be alerted prior to upcoming maintenance.

Automated scheduled emails of any report.
Setup any report to be emailed to anyone on a regular basis. This can be sent in any format (.csv, .xls, .pdf, .xml, .tiff).

Reporting parameters.
Our system is flexible enough to allow a vast array of reporting parameters. This includes but is not limited to date/time, groupings, by vehicle and/or by driver.

Alerting module
Full suite of active alerts. Including, unauthorized movement, speeding, and idling.

Planned vs. Actual module.
Analyze the difference between a planned route and what was actually performed by a driver.

Enhanced Vehicle Grouping
Vehicles can be grouped into any type of structure or sub structure. For example, an agency may group by territory and each territory may have sub groups of regions. Each region may have a sub group of districts. Every hierarchy can be reported on and restricted by user privileges.

Dynamic Dashboard
A unique overview of key performance metric data about the fleet with drill down capabilities and views of current data as well as trending (a specific period of time versus another specific period of time). Additionally, the available key performance metrics can be customized from what you name it, to the thresholds you establish as benchmarks to report against.

Bespoke Reports
We recognize that although we offer a broad range of reports off-the-shelf, customers may require something different to adhere to their specific needs. As such, we offer the ability to create custom reports based on the data our system captures.

Customer System Integration
We offer various types of solutions to our partners who wish to integrate their software systems with ours.